Curriculum Vitae
"
a brief biographical résumé of one's career and training, as prepared by a person applying for a job
." ~ Dictionary.com
More common term in the UK
Résumé
"
a brief written account of personal, educational, and professional qualifications and experience, as that prepared by an applicant for a job.
" ~ Dictionary.com
More common term in the USA
Although there may be slight cultural variations on how the terms
curriculum vitae (CV)
and
resume
are used, they will be used interchangeably in this knol. In this knol I will use the term curriculum vitae, or its abbreviation - CV.
Your curriculum vitae (CV) may be the most important document that you ever write. It will determine whether your application for that fantastic job or internship goes on the shortlist marked "interview" - or on the longer list marked "shredder". In short, your CV has the potential to change the course of the rest of your life - you need to take it very seriously.
Think of your CV as a marketing brochure - one designed to market
you
. Whether you are changing jobs or simply looking for an internship, the potential benefit you will gain from having a great CV will more than repay the modest effort and attention to detail that is required in its preparation. This knol is intended help you prepare a great first CV.
Do I need a different CV for each job application?
Your CV is a work-in-progress, and will remain so for the rest of your career. As you gain experience in your job, or take on additional responsibilities, you should update your CV to record these achievements. Do this as a matter of routine - do not wait until you need a CV for a job application.

You will find that it helps to distinguish between:

a master copy - which you update cumulatively as you progress in your career

individual copies - which you derive from the master copy from time-to-time for specific job applications

If you are preparing a job application, take a copy of your master CV and edit the copy to reflect the specific requirements of the job you are applying for. For example, If you are applying for a job as a web developer, you should emphasise any experience and achievements that that are relevant to web development.
Edit the master CV
only
when you have new experience or achievements, or when you take on new responsibilities. After a few years of employment you will have added many new items to your master CV. Through time it will become a longer document and would be difficult to re-create accurately if you were to lose it - so make sure that you keep it securely and make regular back-ups.

As you advance in your career, gaining in experience, you may decide that some of the earlier items in your CV (e.g. experience gained during an internship) are less significant than they seemed a few years ago. If this is the case, you may consider removing them or presenting them in a way that gives them less prominence.
What should I put in my CV?
This section is intended to help you to think about the the content of your CV. I hope it will prompt you to recognise the attributes, skills and achievements that show you in the best possible light - and help you in gathering together all the related information. It is not intended as a structure for your CV - that will come in the next section.
One of the things you are trying to do in a CV is describe yourself and, I think, it helps to think about the description in terms of the answers to the following questions.
The past

How have you spent your life so far?

What have you achieved?

The present

What are you currently doing?

What have you learnt from what you have done in the past?

The future

Where do you want end up?

How do you plan to get there?
You will probably find that it is relatively easy to decide what to say about the past but progressively more and more difficult as you move on to talk about the present and then the future.
The Past
There is some standard factual material about your educational and employment history that should always be included in any CV.
schools and colleges attended (with dates)

qualifications attained (with dates and grades)

employers and job titles, including internships (with dates)

student/vacation work (with dates)
Beyond this standard material you may also have some particular achievements that should be highlighted.
Do you have any sporting achievements?

Do you play a musical instrument? Do you play in a band, orchestra or choir?

Are/were you a member of any student clubs societies?
Have you undertaken any voluntary work?

Have you ever won any prizes or awards?

Have you taken a leadership role or position of responsibility with respect to any of the

above?


The Present
You will have some subject, industry or job specific skills that you should identify. For example:
If you are an IT professional you might list the programming languages that you have used - indicating the level of skill or experience that you have with each one.

If you are a school teacher you might list the subjects and levels at which you have taught.

But an employer will be interested in much more than just these specific skills. He will also be interested in more generic or transferable skills:
Can you write well?

Can you communicate effectively on the telephone?

Can you fit in to their team?

Can you be relied upon to show-up for work on time every day?

Can you be trusted with money?

Do you have any leadership ability?
It is not so easy to give convincing answers to questions like these in a CV. Anyone can claim to have these skills but, to be credible, you really need to be able to cite occasions when you have been actually used them. For example, only one the statements below gives a clear indication of the writer's experience and would be viewed positively by an employer.
Which candidate impresses you more?

Candidate 1
- "I gained considerable experience in dealing with the public during my summer job as receptionist for the Ramada Hotel, Portrush. This involved responding to enquiries on the telephone and registering guests on arrival. I feel much more confident in dealing with the public now."
Candidate 2
- "I am good at dealing with the public."
Employers will view favourably, applicants who can demonstrate characteristics such as:
hard working - pleasant personality - punctual - reliable - leadership ability
initiative - common sense - honest - flexible - focused
self motivated - organised - responsible - enthusiastic - resourceful
You do not need to score top marks on all of these, but if you think you have something positive to say with respect to
any
of them, do not miss the opportunity.
You can demonstrate your ability to write well by having a well written CV. This is
extremely
important and not particularly difficult, but a carelessly written CV will irritate the reader and may go straight to the shredder.
When applying for a job, the job specification may list the skills and attributes that the employer is looking for Frequently there will be two lists:
required skills

desirable skills
An employer will typically use the required skills to filter out unsuitable applicants and draw up a shortlist for interview. Consequently, it is essential that you address all of the required skills in your CV.
The Future
It is good to have a career goal. It indicates to a prospective employer that you are ambitious and are taking your career seriously.
Your goal should be ambitious but achievable.

You should be knowledgeable about what your goal entails, and be prepared to discuss it at interview.

You should have a realistic plan for achieving your goal and - of course - the job for which you are applying should be part of that plan.
If you state a career goal but lack the knowledge to discuss it or a realistic plan to achieve it, you will appear either foolish or dishonest - or both.

If you state a career goal that is unrelated to the vacancy for which you are applying, the employer will probably think that you are not really interested or committed.
No-one can give you a career goal or tell you how ambitious you should be. These are matters for you to decide, and you need to be honest about them. However, if you do not have a goal then perhaps you need to start thinking about it now.
Which candidate impresses you more?
Candidate 1 - "I want to spend four years working in web design and development to get experience of the technologies and the business. After that I intend to become an internet entrepreneur."
Candidate 2 - "I'm not really sure what I want to do. I thought about web design but then I didn't know if there would be any jobs. Maybe I'm more suited to management."
How should I organise my CV?
Now that you have thought about what goes into your CV and gathered together all the relevant information, you need to think carefully about how to structure and present it.
An employer may have to sift through many CVs to shortlist candidates for a single job vacancy. He will be more favourably disposed toward you if you make his job easier, and you can do this by designing your CV so that it is easily read. The reader should be able to quickly scan to key items of information - and then drill down to find more detail if necessary.

An effective way to structure a CV is to divide the information into a number of sections, with items in each section listed in bullet points or short paragraphs. Typical sections for someone at the start of their career might be:

Personal Details - simple, factual information.

Career Goal - this section is optional but if you decide to include it, be prepared to discuss it at interview.

Educational History - Bullet point your progress (with dates).

Employment History - Bullet point your progress (with dates).

Skills and achievements - What have you learnt and achieved as a result of your education, employment & leisure activities? Bullet point the skills & achievements and give some indication of where you developed and demonstrated each one.

Leisure Activities - This section should be kept fairly short unless you have something very interesting to say. Try to emphasise activities and achievements that demonstrate engagement and commitment, over mere interests. For example:
it is better to play in a football team than simply to be interested in football

it is better to be an active member of a fan club than simply to be a fan

it is better to organise a book club than simply to enjoy reading

The example CV below is
fictional
and is intended to illustrate some aspects of structure and presentation.




Personal Details




Name:

James

Gordon

Brown




Date of Birth:

20 February 1951




Address:

10 Downing Street, London, England




Phone:

1234 5678




Email:

jg.brown@tendowningstreet.gov.uk




Current Post:

Prime Minister of the United Kingdom




Career Goal




My long term career goal is to save the world from the consequences of the credit crunch. I will achieve this by looking very glum and serious.




Educational History




1968 - 1982

University of Edinburgh



PhD History: Labour Party and Political Change in Scotland 1918-29.

BA Hons History (1st Class)
1960 - 1967

Kirkcaldy High School



3 A Levels: History (A), English (A) & Economics (A)

9 O Levels - including 7 at grade A
1953 - 1960 Kirkaldy Primary School
Employment History




2007 - present Prime Minister of the United Kingdom




1997 - 2007 Chancellor of the Exchequer

(UK)




Formerly: Member of Parliament for Cowdenbeath, Journalist for Scottish Television










Skills and Achievements




Leadership skills:
I was Captain of my School rugby team during 1965-66. This was my first taste of real power.
Financial acumen:
Between 1999 and 2002 I sold 60% of the UK's gold reserves at around $275 an ounce. The gold price more than trebled in the six years that followed!

I was Treasurer of the University Debating Society from 1970-74. This involved taking responsibility of the Society's cash and preparing the accounts for audit each year.
Dealing with the public:
As the

Member of Parliament for Cowdenbeath I have regular meetings with my constituents to deal with a wide range of issues.

As a journalist I was frequently required to conduct interviews with the members of the public.
I have a full UK driving licence and am prepared to travel anywhere in the Greater London area.




Referees




Mr A. Darling, 11 Downing Street, London, England.


Mr T. Blair, 999 Other Street, London England.


Leisure Activities




In my spare time I enjoy train spotting and playing tiddlywinks. I am tiddleywinks world champion 2001, 2002 & 2004. Sadly, I have not had much time to devote to tiddleywinks recently, as I have been pre-occupied with potential Cabinet rebellion.







Notice how the text is structured and formatted to enable the reader to quickly scan to the information he wants.
The structure, formatting and layout are simple, logical and consistent.

Layout - such as white space, indentation and bullet lists - is used to help the reader to scan quickly to the information he is interested in.

The text of each item is brief but self-contained.

Dates are important, so layout is used to emphasise them. Where appropriate, items are sorted by date - with more recent information to the top.

Early experience and achievements are given less prominence (e.g.

"Formerly: Member of Parliament for ...").
If you are student applying for your first professional job in the UK, your CV should be no more than two sides. Outside of the UK,
expectations
and conventions may differ.
If your first draft is longer than this then you will need to be more selective about what you include and how much you say. If it helps you may adjust your page margins a little but do not reduce your font size below 11 point Times New Roman (or equivalent) - 12 point is better. Giving your reader eye strain will not help your application.
Always keep in mind that your reader is a busy person - make his life easier and he will appreciate it.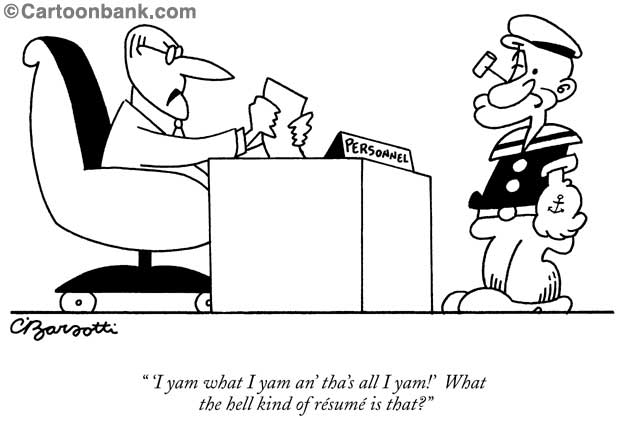 Writing is an incremental process that includes multiple cycles of proofreading and revising.
It can be difficult to proofread your
own
writing, because you will tend to see what you
meant
to write rather than what you
actually
wrote. The ideal solution is to get a friend to proofread your writing for you, but if this is not possible then the following advice may be helpful.
Read your writing aloud to yourself - this often uncovers problems that would otherwise go unnoticed.

Do not try to do everything at the one session - leave some time between writing and proofreading.
The Application Process
The application process may vary from employer to employer but you should always include a cover letter as part of your job application.
Keep Accurate Records
Keep a copy of all letters and documents sent and received, and a record of all telephone conversations - with dates, times and the names of the people you spoke to.
Finally
I
n all communication with a potential employer, emphasise the positive:
Clearly indicate your positive attributes – emphasising those that are most relevant to the vacancy.

Say nothing about your negative attributes – unless you're specifically asked.

Be truthful – do not tell any lies.
"You've got to accentuate the positive.
Eliminate the negative.
Latch on to the affirmative.
Don't mess with Mister In-Between."

~ Johnny Mercer & Harold Arlen